The LIFE project team from Wales visited Latvian raised bogs 29/09/2010 00:00
From October 21st to 22nd the Welsh colleagues from the EC LIFE project "Restoring Active Blanket Bog in the Berwyn Migneint and Special Areas of Conservation (SACs) in Wales" visited the LIFE project sites in Latvia where raised bog restoration was carried out.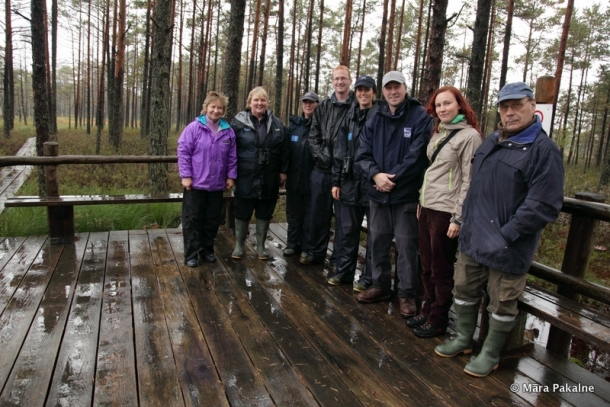 On the first day of the study trip they visited Ķemeri National Park where the excursion was guided by Jānis Ķuze, the manager of the LIFE project "Conservation of wetlands in Kemeri National Park". During the project the restoration of mire habitats and hydrology was carried out both in the peat fields and in the areas influenced the drainage ditches.

In the afternoon, the Welsh colleagues were taken to Cena Mire Nature Reserve to the area where restoration of raised bog habitats and hydrology was carried out within the EC the LIFE project "Restoration of Raised Bog Habitats in the Especially Protected Nature Areas of Latvia". The EC LIFE project manager Dr. Māra Pakalne introduced with the experience of bog restoration and monitoring in Cena Mire Nature Reserve. Boardwalk, a bird watching tower and information boards were build with the support of EC LIFE program me.

On the second day, the Information Centre of the Ķemeri National Park was visited as well as Kaņieris Lake Ramsar site with bird watching tower and sulphur springs in Raganu Mire.

The next site was Engure Lake Nature Park where EC LIFE project "Implementation of management plan for Lake Engure Nature Park" was carried out. Management actions that include grazing are continued also after the end of the project. The excursion included visit to the orchid nature trail with wetland habitats of EU importance.
Attached images

Added galleries